This week, I've looked into the comparisons of January 2021 with January in 2019 and 2020. These numbers are for the whole month of January:

So what we can see here is that the number of Sales Agreed in January this year is up almost 24% on those of January 2020. That's quite an uplift. However, the number of new properties coming on to the market as For Sale is just short of 20% down on January 2020. This looks good doesn't it, for the time being at least.
I've spoken a fair bit about supply and demand in recent months. This is currently what is known as a sellers' market which will probably lead to an increase in either supply and/or rising property prices due to there being currently too many buyers in the market for the number of properties.
One thing to be wary of is that even though demand for properties is up 24% on the same time last year, it's also 12% down when comparing it to November 2020. Now the reason I've compared with November 2020 is that with the festive season in December, there is essentially a week where not a lot happens in the housing market. So November gives us that full month to compare against. Take a look below:

What is fairly encouraging though is the drop on both new property coming to the market and sales agreed is a fairly similar percentage. Though, going back to supply and demand again, you can see that Sales Agreed held slightly firmer than new listings.
We've also taken a look at the different regions of the UK looking at demand for property to see the "hottest" markets in 2020. The below table shows the percentage of stock sold in 2020. Essentially, this is simply calculated by taking the volume of Sale Agreed properties and dividing it by the number of New Instructions, so it will be over 100% if demand (buyers) has outperformed supply (sellers) in the whole year.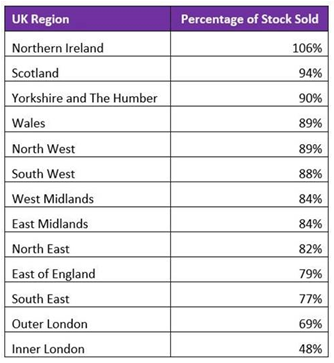 3 out of 5 of the hottest markets were Northern Ireland, Scotland and Wales and this is likely to be caused by the fact that their markets came out of lockdown 1.0 slower, which gave rise to relatively larger volumes of pent-up demand. Then London is at the foot of the table, likely due to many buyers wanting to escape the city to the country after the first lockdown.
If this is a "normal" year, the current situation is far from normal and demand is exceptionally high when compared to supply. This will almost certainly lead to prices rising further outside of London and in our view at TwentyCi could see demand continue deep into 2021 and long after the honeymoon period of the stamp duty holiday has ended.
Source: TwentyCi