This past week, I've had a number of people message me asking for some of the figures regionalised. Therefore I thought to myself, what better time to do it than at the end of the month so we have 2 full months of data to track! So here we have it, a January and February comparison over the past 3 years: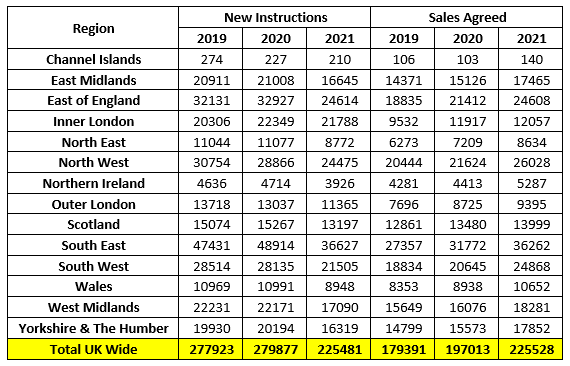 What we can see is that the continued growth of sales being agreed in 2021 compared to 2020 is throughout every region. Also, the trend of fewer properties coming on to the market for sale, is seen in all regions also.
However, given the announcement today from Mr Sunak about extending the stamp duty holiday though the summer to the end of September (in different guises), coupled with the fact that we are coming the usual time of year when more property is listed for sale, for households to try and make a move during the summer, will we see more property coming on to the market as a result and catch up with the 2020 and 2019 volumes? We wait to see. But the Stamp Duty extension, as well as the introduction from April of 95% mortgage guarantee for first time buyers are both great news for the property market in the UK.
Source: TwentyCi